Building Your Business With LinkedIn
Attention Professionals: If your biggest networking opportunities involve more "liking" than "linking" then listen up, because you're about to learn…
"How to Build a Powerful, Professional Network that Helps Grow Your Business – Not Your Farm"


From: Donna Price
Date: May 4th 2011

Subject: LinkedIn To Build Your Business
Dear Business Owner,
Social networks are growing exponentially these days, as is the pressure to join them. It seems that every day we get an invitation to a new network where our friends and family are waiting to connect with us. But that's the trouble, isn't it? They're all about being social.
There's nothing wrong with that, of course, but as a business owner you don't have a lot of time to spend playing Farmville on Facebook or attending a Twitter party with your book club. That doesn't mean you couldn't benefit from some social interaction with other entrepreneurs, though. What you need is a network where the emphasis is on making professional connections rather than playing games, and that's just what the LinkedIn developers have built.
The Perfect Blend of Business and Pleasure
LinkedIn offers members a unique opportunity to connect with other professionals in their industry, forge strategic partnerships for mutual growth, and reach out to potential clients in an environment where marketing isn't something to be looked down upon.
But LinkedIn isn't all work and no play, either. Like its more social counterparts, LinkedIn is a thriving community of professionals who use the network to form groups where they can discuss industry happenings, offer continuous education opportunities, arrange local meet-ups and events, and just get together to chat. Since most members are there for business reasons rather than strictly social, you won't find any viral game aps to waste your time, but that doesn't mean your LinkedIn experience will be boring.
If anything, it makes the network stronger, because while everyone is friendly and social, they all share a common goal: to grow their business.
You Don't Have to be in the B2B Market to Benefit
Maybe you considered joining LinkedIn in the past, but decided it just wasn't for you – especially if your market is primarily consumers. After all, LinkedIn is about connecting with other business owners and professionals. If your market is moms or dog owners or knitters you might think LinkedIn has little to offer.
But you'd be wrong.
Some of the most profitable connections you can make are with those who own or operate a complimentary business within your market. Imagine the cross promotion possibilities when a seller of gourmet dog treats connects with the owner of a doggie day care center, or a wedding photographer meets a pastry chef. These are the kind of links that forge powerful partnerships and drive enormous profits, and it's all possible through the social network where self-promotion is encouraged.
Your presence and participation on LinkedIn provides:
A self-promotion platform where qualified leads are actually looking for your goods and services.
Access to decision makers – without having to deal with the "gate keepers" that keep you from reaching your prospects.
Instant credibility – through third-party introductions to those you would otherwise not have the opportunity to meet.
Powerful search functions – to help you find and connect with those members who are willing and able to form a beneficial partnership.
Better search engine visibility – a well-designed LinkedIn profile can even get you noticed outside the network on Google, Bing, and other search engines.
The Perfect Networking Opportunity for YOUR Business
Regardless of your business model, you need to spend a portion of your time meeting and connecting with potential clients and partners. Offline this is accomplished through Chamber of Commerce meetings, trade shows, and industry events.
Online, we have an even greater opportunity because we're not limited by geography. The trouble is, so many of our networking tools are more about being social than being in business. LinkedIn solves that problem for nearly every professional in every industry. Just look at how these businesses use LinkedIn to increase sales and visibility:
Freelancers – whether you're a graphic designer, writer, film maker, or marketing professional, a LinkedIn presence can help you make contact with qualified, interested leads instead of the freebie-seekers so many other networking sites produce.
Retail businesses – connecting with potential partners is quick and easy when you've got the power of LinkedIn behind you.
Service businesses – Doctors, lawyers, and consultants from all industries gather on LinkedIn to discuss issues important to their businesses, like how to gain and keep new clients, industry news, events, and more.
Manufacturers – find out who is in the best position to distribute your goods or provide raw materials, regardless of where they're located.
Professional Networking Has Never Been Easier
Getting started with LinkedIn isn't any more difficult than setting up a Facebook account, but there are some pitfalls you need to watch out for, and some opportunities that are easy to miss if you don't know your way around. That's why my new Guide to LinkedIn is the perfect primer for those looking to make the most of this fabulous networking tool.
In this easy-to-read report, you'll learn everything you need to know to start making those critical connections, like:
How to properly set up your profile – and gain maximum exposure not only within the network, but outside it as well.
How to find other professionals in your industry who are ready to work with you for mutual benefits.
How to easily connect with powerful decision makers – the kind of people you ordinarily would not have the opportunity to meet.
How to leverage all your social marketing tools from one site – saving you time, money, and a great deal of frustration.
How to write an effective headline that shows off your expertise and boosts your credibility – without it, your connections (and your profits) will flatline.
You'll also quickly learn the technical side of LinkedIn, with our step-by-step tutorials on:
Critical account settings you can't afford to miss – Check the wrong box, and your important contact information will remain unseen by anyone.
Automatically adding contacts – because you don't have time to search through thousands of profiles just to find the people you already know.
Setting your notification preferences – so you never miss a time-sensitive invitation or chance to meet a potential business partner.
If you're frustrated with trying to mix business and pleasure, or if you're just not getting the results you want from the social networks you belong to, then you owe it to yourself to join the LinkedIn community. You'll find thousands of business professionals who are all looking for the same thing you are – better partnering opportunities, more qualified clients, and a stronger, healthier bottom line.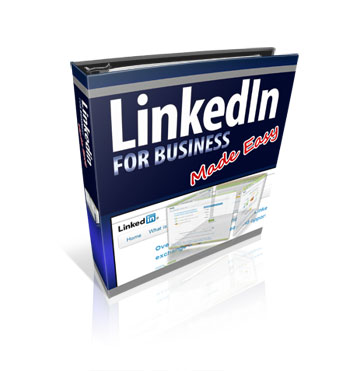 With my LinkedIn webinar & comprehensive guide to light your way, you'll be making those valuable connections in no time, and reaping the rewards of a powerful network. I'll help you quickly work through all the steps needed to set-up a magnetic profile that will have prospects knocking on your door, and teach you to avoid the most common pitfalls new members face. During our live 90 minute webinar I will cover all of the basics and more. I will give you a copy of my comprehensive report AND checklists to use to get you going fast:
Checklist #1 – Setting up a LinkedIn Account (2-pages)
This handy checklist will guide you through the steps to set up your LinkedIn profile the right way the first time.
Checklist #2 – LinkedIn Networking & Credibility Checklist (2-pages)
You will learn steps to take to create opportunities for networking and marketing with other site users.
Checklist #3 – LinkedIn Q&A Checklist (1-page)
This meaty checklist will give you keys to using the Q & A section of LinkedIn. This is a section of the site where users can ask and answer questions to increase their authority and establish connection with other people related to their areas of interest.
So sign up today and we will get your materials out to you. Get started in the only social network made just for professionals. Before you know it, you'll have made connections with the leaders in your industry, potential partners, and new clients, all in one convenient place. Best of all, you won't be wasting your working hours wading through endless updates about dinner plans and mafia wars, because LinkedIn is made up of professionals, just like you.

The workbook, live webinar and checklists are the keys you need to make LinkedIn work for your business.
Can't make the live webinar? Register anyway and I will send you a replay link along with all of the materials.